July 3rd, 2021
---
This week's highlights
Watch the replay: COVID-19 & Human Rights in East and Southern Africa
Introducing the Indigenous Media Collaborative: Steve Bonspiel
Save the Date: Night4Rights 2021 slated for October 20!   
Misinfo bursary deadline extended
---
Watch the replay:
'COVID-19 & Human Rights
in East and Southern Africa'
At last week's 'COVID-19 & Human Rights in East and Southern Africa' webinar, journalists Esther Nakkazi (Uganda), Azola Dayile (South Africa), and Sammy Awami (Tanzania) shared their insights on the human rights challenges that have emerged during the pandemic in their respective countries. The discussion was moderated by Jedidiah Ramalapa, Editor In Chief, Sound Africa, and featured closing remarks from JHR Regional Coordinator Siyabulela Mandela.
Speaking about the current situation in Uganda as it battles a second wave of COVID-19 infections, Esther Nakkazi shared that journalists are combatting layoffs and lack of access to PPE as they try to cover such issues as the exorbitant cost of healthcare, the rise in child labour and teenage pregnancy, and police brutality against citizens flouting the government's curfew.
Azola Dayile called out the skewed pattern of vaccine distribution around the world and said that the issue of vaccine scarcity in South Africa is complicated by misinformation related to fatalities caused by vaccines.
Sammy Azami said that while Tanzania had a robust response to COVID-19 initially, the government is now gaslighting citizens about the existence of the virus.
Watch the full webinar here.
This webinar was hosted as part of JHR's Mobilizing Media to Fight Against COVID-19 (MMFC) project. It was held in partnership with Media Monitoring Africa, Sound Africa, Health Journalist Network Uganda and Media Owners Association of Tanzania.
Help us continue this essential work. When journalists shine the light on human rights abuses and injustices, it leads to actual, life-changing impact. You can read more about the MMFC program's success stories here.
---
The above stories are part of the Mobilizing Media to Fight COVID-19 project funded by
---
Introducing the Indigenous Media Collaborative:
Steve Bonspiel (The Eastern Door)
JHR's Solutions Journalism program is pleased to introduce the members of its new Indigenous Media Collaborative, a group of Indigenous journalists and media organizations that is producing a series of solutions journalism and human rights stories about land claims, Indigenous sovereignty, and #LandBack. This week, we speak to Steve Bonspiel about why it's crucial to talk about #Landback in the media.
.
.
Steve Bonspiel is the editor/publisher of The Eastern Door, a Kanien'kehá:ka (Mohawk) community newspaper based in Kahnawake, Quebec. Bonspiel has been a journalist for 18 years and puts social justice issues at the forefront of the type of reporting regularly covered in The Eastern Door.
.
---
Save the Date:
JHR's Night4Rights is this October 20!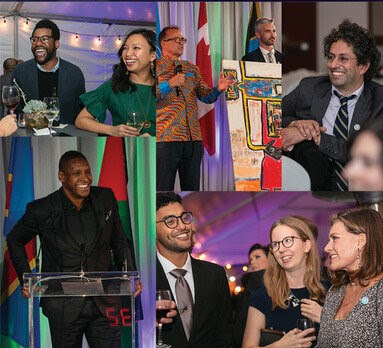 Night for Rights will take place at the Brickworks Pavilion in Toronto from 6pm-8pm, on October 20, 2021. This year, mindful of potential public health concerns, we're putting on an extended cocktail party in an outdoor setting. We will have both on- and offline speakers and entertainment, and attendees can choose to attend either on- or offline. Tickets are $500 or $5000 for a group of 10. More details soon at www.night4rights.com!
---
 Deadline approaching:
Apply for the Misinformation
Project's bursaries before July 5!
Journalists for Human Rights (JHR) and 16 journalist trainers recently held a series of training workshops on media literacy and digital investigation for Canadian journalists. We are now offering one-time $3000 Story Grants. Successful applicants will receive a bursary to produce original and timely reporting on stories related to online misinformation.
Story topics can range from the impact of misinformation on the well-being of diverse communities in Canada to the spread of specific disinformation narratives to tips Canadians can use in order to identify misinformation online.
The Misinformation Project was organized by JHR and First Draft News in order to train journalists, media professionals and students in digital literacy skills.
If you or your newsroom would like to cover online misinformation or would like to explore how it is affecting Canadians, click here for more information. Deadline to apply is Monday, July 5, 2021.
---
.
Your support allows us to continue our innovative work around the world!
.
.
.