July 24, 2021
---
This week's highlights
JHR Mali celebrates quality human rights journalism
JHR trainees highlight the pandemic's toll on children and education 
Save the Date: Night4Rights 2021 slated for October 20!   
Introducing the Indigenous Media Collaborative: Laurence Brisson Dubreuil (The Eastern Door)
---
JHR Mali celebrates quality
human rights journalism
On June 26, 2021, JHR Mali, in partnership with la Maison de la Presse, l'Union des Radios et Télévisions Libres du Mali, and l'École Supérieure de Journalisme et des Sciences de la Communication de Bamako, held the first edition of the Human Rights Journalism Awards in Bamako, celebrating the work of two professional journalists and two journalism students as part of the project "Strengthening Media to Promote Inclusive Democracy in Mali" funded by the United Nations Democracy Fund (UNDEF).
The award sought to recognize outstanding reporting on human rights and good governance issues, and to incentivize local journalists to strive for excellence in their work. Award winners were honoured for stories on topics ranging from child marriage and women's empowerment to the environmental impact of gold mining.
Read more about the awards 
here
.
.
---
JHR trainees highlight the pandemic's toll
on children and education
The Mobilizing Media to Fight COVID-19 program continues training journalists across Africa and the Middle East and a recent batch of trainee stories put the spotlight on the COVID-19 pandemic's impact on children.
.
In 
one story
, JHR trainee Noor Ali examined how the cultural barriers to girls' education in Iraq have become more pronounced in the face of financial difficulties exacerbated by the pandemic. Noor followed with a 
report
 on the rise in child labour in Iraq's Kurdistan region during the pandemic.
.
In Mauritania, El Hassan Mohamed El Hussein 
wrote
 about the impact of school closures on children and described distance learning platforms as only partly successful in compensating for the absence of regular education.
.
Help us continue this essential awareness-building work. When journalists shine the light on human rights abuses and injustices, it leads to actual, life-changing impact. You can read more about the MMFC program's other success stories here.
.
---
The above stories are part of the Mobilizing Media to Fight COVID-19 project funded by
---
Save the Date:
JHR's Night4Rights is this October 20!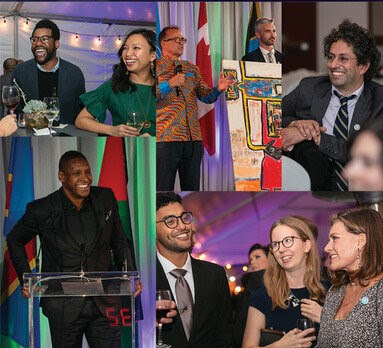 Night for Rights will take place at the Brickworks Pavilion in Toronto from 6pm-8pm, on October 20, 2021. This year, mindful of potential public health concerns, we're taking the party to an outdoor setting. We will have both on- and offline speakers and entertainment, and attendees can choose to attend either on- or offline. Tickets are $500 or $5000 for a group of 10. More details soon at www.night4rights.com!
.
---
Introducing the Indigenous Media Collaborative: 
Laurence Brisson Dubreuil (The Eastern Door)
JHR's Solutions Journalism program is pleased to introduce the members of its new Indigenous Media Collaborative, a group of Indigenous journalists and media organizations that is producing a series of solutions journalism and human rights stories about land claims, Indigenous sovereignty, and #LandBack. This week, we speak to Laurence Brisson Dubreuil of The Eastern Door about her interest in reporting on #LandBack.
Laurence Brisson Dubreuil is a full-time reporter with The Eastern Door. She is assigned to the Kanien'kehá:ka community of Kanehsatake located about 50 KM west of Montreal. Prior to The Eastern Door, she worked with the Institute for Investigative Journalism on "Tainted Water," a national investigation into Canadian drinking water standards, as well as "Clean Water, Broken Promises," an investigative series that focuses on water systems in Indigenous communities.
.
---
Your support allows us to continue our innovative work around the world!
.